OUR OTHER FAMILY – CHICAGO SINAI'S PROFESSIONAL CHOIR
They seem like family – four robed singers at every Sinai service
(and sometimes more, during holidays). 
Like we've known them forever.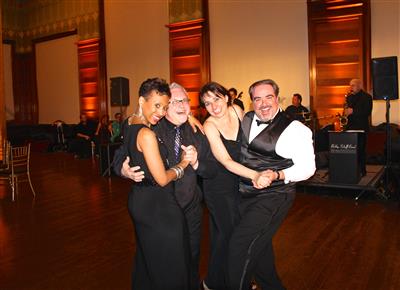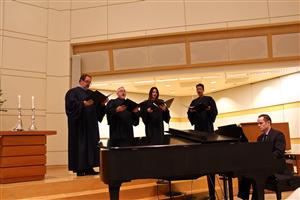 And, perhaps, we have.  "Kim, Maia, John, and David have been part of our retinue since I returned to Sinai," explains Scott Kumer, music director.  "After all, organ and choral music are foundations of the Reform movement since it was established in 19th century Germany.  We're not only continuing that tradition, but also expanding and developing  it every year – especially with our special choral programs.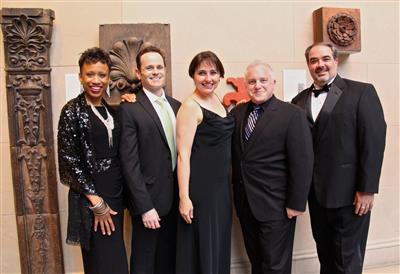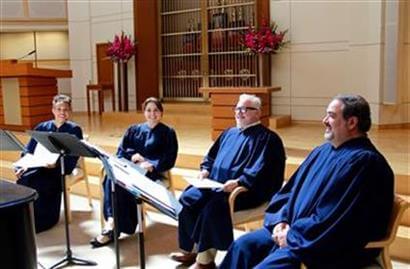 Plus, these four 'regulars' also  coach at the Volunteer Choir rehearsals, helping members learn much more quickly and training them in good vocal technique, like good breath support, vowel production, and text articulation.  (Scott notes that the "V-Choir" is looking for additional members!)   Occasionally, new faces will appear – usually during High Holy Day services.  Or when their appearances in Lyric Opera or Chicago Symphony Chorus conflict with Sinai dates.  "Rest assured, we don't randomly recruit new professionals," Scott says.  "We do have a first tier of substitutes, a pool of seasoned singers who've worked with us."
Yet though we all can recognize the lyrical, often magical tones of soprano Kim Jones, alto Maia Surace, tenor John Concepcion, and bass David DuBois, how well do we truly know them?  Read their short profiles – and make sure you greet them after the next Sinai service!
---
KIM JONES, SOPRANO: I've been part of Sinai's professional choir for seventeen years.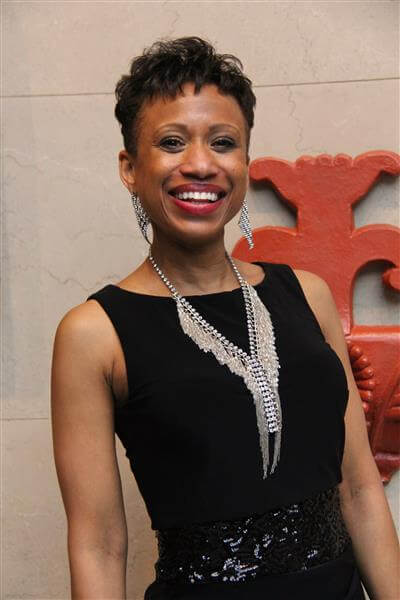 Training:  At Westminster Choir College and Ryan Opera Center at Lyric Opera of Chicago
Musical instruments:   Classical piano lessons from 5 years to 20.
Other performances:  All over the U.S., Ravinia Festival, Symphony Center, Chicago Opera Theater, Lyric Opera of Chicago – and internationally in Copenhagen, France, Germany, Italy, Japan, Singapore … the world!
Favorite roles:
Zerlina (Don Giovanni)
Adele (Die Fledermaus)
Despina (Cosi)
Most desired operatic role:  Tosca, because it's Puccini at his best.  And it's about an operatic diva, about love, tragedy, lies, passion – everything that makes opera exciting.  Act Two is some of the best music ever written.
Favorite Sinai song(s):
L'dor Vador (Finkelstein) – beautiful chorally and solo-wise
Most R'tzei pieces and Sim Shalom (Max Janowski) – it's passionate, almost like an operatic aria
What about Sinai/Judaism resonates with you?  The music can be as passionate as some operas.  And the language, as articulate as any German Lieder
What inspires you?  Younger students.  It reminds me of how hopeful and eager I was and still need to be.  And, of course, my parents.
My professional role models:  Renee Fleming, Renata Tebaldi, Leontyne Price, Barbra Streisand
Where you can hear me in 2016 (aside from Sinai):
Michigan City Chamber Music Festival
Porgy and Bess concert in Glen Ellyn
The Yachats music festival this summer
And ask me again in a few months … I hope it'll be a longer list!
Some personal stuff:
I'm a native Chicagoan – and now live about four blocks away from my parents
My favorite Chicago activity:  The best summer festivals in the world – and going anywhere to hear other performers
I have a healthy appetite – and when I'm not on stage, I love dancing, movies, eating at great restaurants, hanging with friends, and practicing
What I'd like Sinai members to know about me:
I love working at Sinai – and have for the past 16 years.  It's interesting being a quartet member here for so long.  I really care about the families, that I have an interest in watching the kids grow up and celebrating their bar/bat mitzvahs.  It's also difficult when a Sinai member I've known for a while passes because I've spoken and laughed with them on numerous occasions.  It's more than a job.  It's personal, and another family.
---
MAIA SURACE, ALTO: I've been with Sinai since 2009.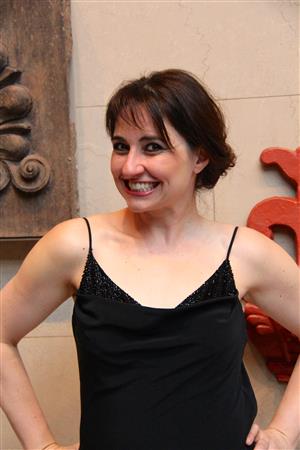 Training:
Master of Music Vocal Performance/Pedagogy,  Roosevelt University
Master of Music Piano Performance, Northwestern University
Bachelor of Music Piano Performance, Vanderbilt University
I play piano and learned flute in high school
I'm in the Lyric Opera of Chicago chorus and the Grant Park Festival chorus; I sing in the Bach Project, at Ascension Church and St. John Cantius.
My favorite role:  The lead in Orlando (Handel) at Glimmerglass Opera
Dream role:
  Tosca so I'd know what it's like to sing "Vissi d'arte."
My favorite Sinai songs: 
 Anything composed by Bonia Shur – and Gerald Cohen's "Adonai Roi Lo Echsar."  And I'll never grow tired of "Sim Shalom" composed by Max Janowski
What I've learned about Judaism: 
That community is very valuable – as is making the world better through doing mitzvoth.  There are so many opportunities for children and families to be involved.  The Torah is treated with great respect and love – and also discussed and questioned.  And I appreciate the remembrance of the deceased at the end of each service, continuing to underscore the legacy of the family.
I'm inspired by:
 commitment to do a good job, to carry a task to completion, to aspire to greatness.  And I'm inspired by my personal faith in God.  At age eight, I memorized Exodus 15:2:  "The Lord is my strength and my song, and He has become my salvation."  This is literally true for me.
My role model:
  Soprano Sandra Radvanovsky – the picture of hard work, commitment, success, with humor and love, maintaining humility in her down-to-earth character.
About me:
A yearning to eat dark chocolate until I pop
Just signed up for tap dancing lessons
I do yoga, gym glasses, theater, go out with friends
Married to Mike Nicholson
Not a native Chicagoan:  Born in Cincinnati, brought up in Alabama, and landed here in 1993
Best travel memories: My husband and I vacationed in Ireland last year.  We adored the native Irish charm – and watching a sheep-herding demo, biking around Craggy Island, singing "Danny Boy" at a pub in the town of Cork, kissing the Blarney Stone, and viewing the Cliffs of Moher
---
JOHN CONCEPCION, TENOR: I've been at Sinai since 2014, and singing in special concerts here for many years.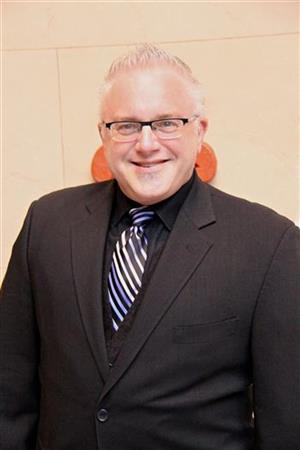 Training:  Bachelors in Vocal Performance (Simpson College in Iowa) and a Master's in Vocal Performance and Pedagogy from North Park University
Born and raised in the northwest suburbs of Chicago
I play a little piano – and a lot of tambourine!
I sing full-time with the Lyric Opera Chorus, and in summer, with the Grant Park Symphony Chorus
My dream role:  Rodolfo in La Boheme.  It's the first opera I ever saw – and it made such an impression on my heart.  The music is honest, lyrical, and full of passion.
Favorite Sinai music:  The High Holy Days.  There's so much austerity and reverence – and the melodies are moving and easy to get caught up in the drama, like Kol Nidre, Sim Shalom.
What I've learned about Judaism: The importance music plays in the temple's liturgy.  Each melody is connected to emotional events in Jewish history, so singing them connects us all and reminds us where we came from – and the struggles they endured.
I'm inspired by:  Creative thinkers from all walks of the artistic spectrum.  I take a bit of inspiration from artists, singers, directors, and writers and it propels me to be a better artist.
Professional role models:
My high school music director Jerry Swanson … instilled in me a love for good music and a sense of professionalism in everything I do.
The late Margaret Hillis, director of the Chicago Symphony Chorus.  She was a perfectionist who expected nothing less from each person – and taught me invaluable musical skills I use every day.  I think of her often.
Luciano Pavarotti.  I fell in love with his voice as a teenager – and he set the standard for operatic tenors:  His technique, his sound, his large personality.
Other John sightings: at Acorn Theatre in Three Oaks, Michigan; Grant Park Chorus, and Lyric Opera of Chicago Chorus
My personal stuff:
To act (non-singing role) in a play, sing in a rock band, and live on a South American beach
Love to see live theatre and explore new restaurants
I write, do crossword puzzles, bike and hike
My husband died a few years ago.  We adopted a boy who's now 17 and fostered a child who's now 22, both of whom live with me now.  My younger is going to Oberlin to study biology/pre-med – and my other son is finding his way in the world.
What Sinai Members should know:  I am lucky that I get to do what I love, every day – because singing is how I support myself and my family.
---
DAVID DUBOIS, BASS: I started with Sinai during the High Holy Days in 2010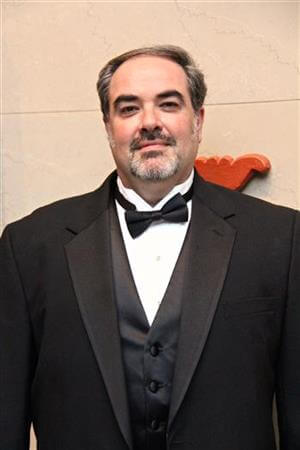 My training:  Olivet Nazarene University
I play the piano, organ, and trombone.
You can also catch me singing with the Lyric Opera, the Chicago Symphony, and other places of worship.
My favorite Sinai song:  The Meir Finkelstein R'tzei – although there are so many to choose from
What I've learned about Judaism:  I'm especially impressed with the bar and bat mitzvahs.
My professional role model:  My college choral director George Dunbar
What Sinai members should know:  I'm most proud of being associated with an institution that values the diversity of all humanity.