Enjoy Sinai's Music Virtually
Songs of Healing and Peace 
We hope that music from our archives may bring you healing, peace, and comfort during these difficult days. 
Visit our YouTube Channel here. 
Meditation to the Soothing Strains of Familiar Melodies 
Join for remote moments of meditation in the Sanctuary, with a background of soothing strains of familiar melodies.
Watch live on Fridays at 12PM on our website here.
Jewish Prayer Music
Judaism, as a religion, appeals to the senses.
We behold the beauty of the Menorah with its shimmering candles.
We delight in the fragrant spices of the Havdalah service.
We sip from the Kiddush cup and taste the challah.
So, too, with music, our senses become engaged. The grandeur and splendor of choral and organ music are irreplaceable. The soaring sound lifts us to new heights even as the rumbling bass of the organ shakes our very selves. At Sinai, it is our aspiration that our music renews us, affirms us, transforms us, appeals to our intellect as well as our emotions, and gives us strength as we go on our way.
We are committed to preserving and strengthening the beautiful tradition of Jewish choral and organ music, while at the same time adding new pieces to our ever-broadening repertoire. Members of our professional vocal quartet accompany every worship service. During the High Holy Days, Chanukah, Purim, and the Annual Spring Choral Program, they join forces with the dedicated members of our Volunteer Choir.
Songleading
"Once upon a time, wasn't singing a part of everyday life as much as talking , physical exercise, and religion? Our distant ancestors— wherever they were in this world—sang while pounding grain, paddling canoes, or walking long journeys. Can we begin to make our lives once more all of a piece? Finding the right songs and singing them over and over is a way to start."
—Pete Seeger, American folk singer
Singing together is an immensely powerful way to bring love into the world.
The idea of songleading is to lead people in song and have them involved in singing music. Toby Pechner, our Director of Family Worship, Technology, and Songleading, strives to make people feel comfortable to sing.
Toby's presence, emanating warmth and sharing a smile makes songleading at Sinai a comfortable experience. Toby honed his songleading skills from working in different environments, including camp, preschools and songleading in prison. Toby's gift is he can read a room and understands the dynamic of what's happening and adjusts as needed, making everyone feel equally comfortable.
Toby says, "I get comments about people experiencing neshama, a soulful feeling, and are happy they felt comfortable to be able to sing, people who can listen and hear different voices in the room. The interfaith community at Sinai bridges the gap of some who may not have grown up with songleading, making it consumable and approachable to everyone."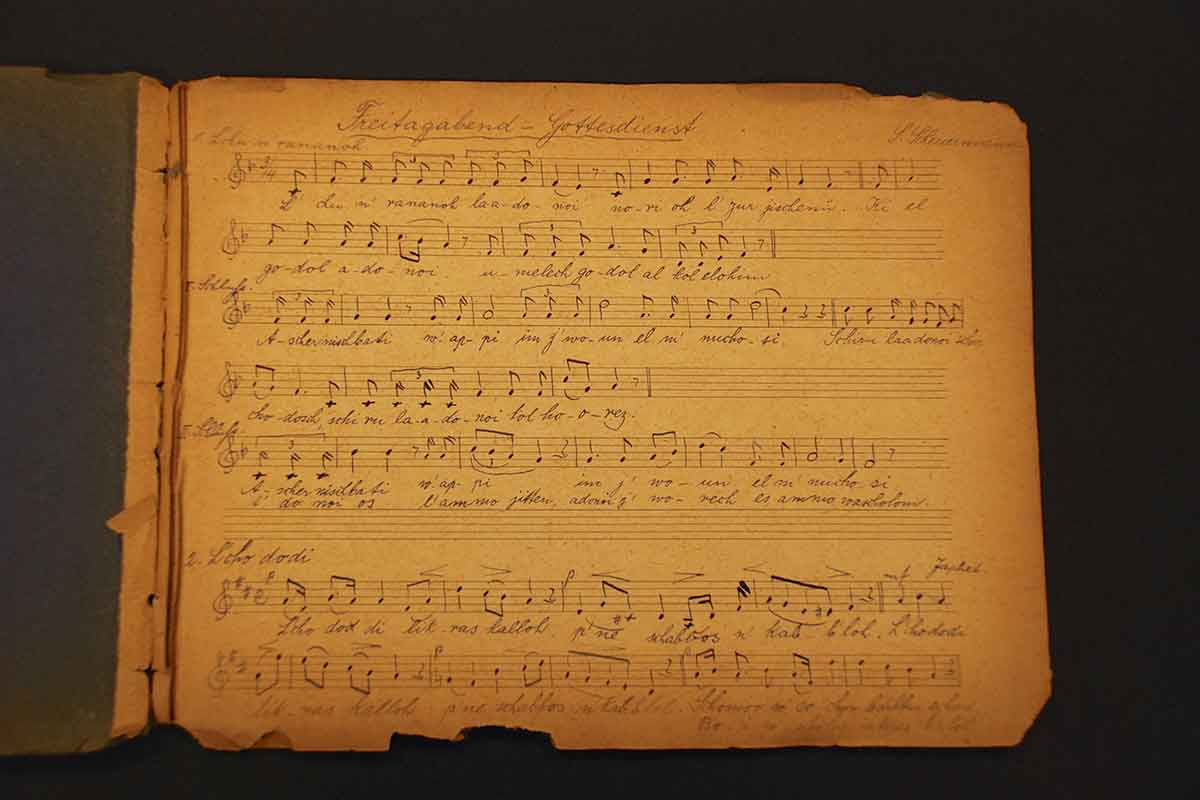 How the music of Reform Judaism evolved
The introduction of choral and organ music was one of the major differentiators of the Reform movement, which started in Seesen, Germany, in 1810. As the Reform movement spread (it reached the United States around 1840), use of choirs and organs in Reform worship became standard.
As our Music Committee members discovered while researching music for Sinai's 150th anniversary (2011), much of our music today has its beginnings in a document published by the German-founded Reformverein (Reform Society), an organization that, in 1861, led to the establishment of Chicago Sinai Congregation, one of the oldest U.S. Reform congregations. That document, the Fundamental Principles of the Jewish Reform Society in Chicago, summarizes the religious basis of a Reform congregation, submitting ten points in February 1859. The eighth point: "Services shall be held with the greatest possible solemnity, and, if feasible, shall be made more impressive by solemn choral song and organ music."
A year before, in 1858, this same Reform Society ran a High Holy Days ad in the Chicago Tribune. Among other things, the ad promoted the presence of a "nice organ," an instrument that distinguished Chicago's Reform community. Since then, every building in Chicago Sinai's history has installed the finest organ it could, with organ pipes as a major visual element in each sanctuary until our Hyde Park location.
It is interesting to note that until the 1940s, choirs and organs were in continual use in virtually all North American Reform congregations. At Sinai, we are proud to maintain and develop the inspired and inspiring tradition of Jewish choral and organ music.
*Other composers whose music is heard during our services include: Salomon Sulzer , Edward Stark, Ernest Bloch, Isadore Freed, Max Helfman, Max Janowski, Naomi Shemer, Bonia Shur, Debbie Friedman, Jeff Klepper, Michael Isaacson, Andrea Jill Higgins, Robert Applebaum, Meir Finkelstein, and Mary Feinsinger, to name but a few.