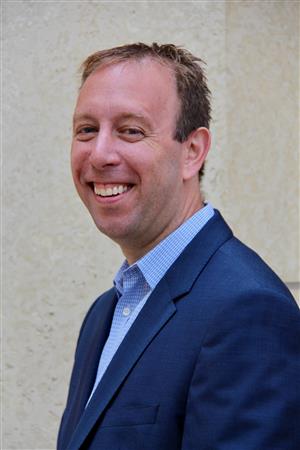 Contact Rabbi Seth M. Limmer
Senior Rabbi
Rabbi Seth M. Limmer
Rabbi Seth M. Limmer entered his career to build, foster and participate in a sacred community founded upon a modern, liberal approach to religion, and to work with a congregation as dedicated to strengthening connections to our Jewish tradition as it is committed to reaching out to help our larger world.
Reform Judaism: a Reasonable Religion
"Reform Judaism has always believed that every individual contains the dignity to determine their own religious decisions," Rabbi Limmer teaches. He strives to be the kind of rabbi who doesn't tell people what Judaism demands of them, but rather opens up the texts and textures of our rich heritage to each person build an authentic life of Jewish meaning.
Interfaith Partnerships: how We become Stronger
Rabbi Limmer works hard to prove that Judaism is strengthened when we are in close and powerful connection with our non-Jewish neighbors. He works tirelessly to ensure that Chicago Sinai Congregation remains "A House of Prayer for All People", and especially a place where the non-Jewish family of many of our members can also feel remarkably at home. Likewise Rabbi Limmer constantly works with fellow clergy and other faith institutions to come together in friendship and community on so many of the issues and opportunities that unite human beings, regardless of their religion.
Justice: our Jewish Obligation
"From our very beginning, the fundamental Jewish project has been to make our world a better place." This teaching is the core of Rabbi Limmer's work. Whether taking a summer to build houses with Habitat for Humanity on Chicago's west side, or helping to build an interfaith organization—Westchester United—to combat a county's ill, Rabbi Limmer has made the work of Justice central to his rabbinate. Here at Chicago Sinai Congregation, for 155 years already so committed to the work of repairing our world, those opportunities have only deepened. For eight years, Rabbi Limmer served in the highest social justice position of the Reform movement: he was Chair of the Justice, Peace and Civil Liberties committee of the Central Conference of American Rabbis and as Vice-Chair of the Commission on Social Action of the Union for Reform Judaism. During that tenure, he helped organize national campaigns for Comprehensive Immigration Reform and Racial Justice.
Rabbi Limmer was born in Rochester, NY, raised in Great Neck, and received a B.A. cum laude in Philosophy from Cornell University. In 1999, Rabbi Limmer received a Master of Arts in Hebrew Literature from the Hebrew Union College-Jewish Institute of Religion, where he was ordained a rabbi in May 2000. During his seminary years at the Hebrew Union College-Jewish Institute of Religion, Rabbi Limmer served as the rabbinic intern at Congregation Rodeph Sholom on Manhattan's Upper West Side, and then served as Rabbi of Congregation B'nai Yisrael of Armonk, NY, for fourteen years. In May 2009, after successfully defending his "The Rabbis as Readers" dissertation, he was awarded his Doctorate in Hebrew Literature.
Rabbi Limmer began his tenure as Senior Rabbi of Chicago Sinai Congregation in July 2014. He currently serves as Vice President for Leadership of the Central Conference of American Rabbis, and is a former Vice-Chair of the URJ's national policy-setting body, the Commission on Social Action. Rabbi Limmer also teaches as adjunct faculty at the Hebrew Union College-Jewish Institute of Religion, the seminary of our Reform Movemement.
On behalf of Chicago Sinai Congregation's lead role in organizing the Reform Movement's participation in the NAACP's 2015 America's Journey for Justice, Rabbi Limmer accepted the Rabbi Maurice Eisendrath Bearer of Light Award, the highest honor of the Union for Reform Judaism. 2016 saw the publication of his first full-length book, Medieval Midrash: The House for Inspired Innovation by the prestigious Brill Press.In 2017, Rabbi Limmer worked with other Reform Jewish leaders in the state to found RAC Illinois, a state-based advocacy and activism platform for congregations.   In 2018, Rabbi Limmer co-edited "Moral Resistance and Spiritual Authority: Our Jewish Obligation to Justice" with Rabbi Jonah Pesner, director of the Religious Action Center of Reform Judaism.  In 2021, and in recognition of the continuing need to work for justice in our time, Rabbi Limmer was appointed to serve on the Illinois State Commission on Discrimination and Hate Crimes.  Rabbi Limmer is also a founding member of the Faith Leader Social Justice Advisory Committee to the Mayor of Chicago.
Rabbi Limmer is proud to serve Chicago Sinai Congregation, and resides in that wonderful city with his wife Molly Morse Limmer—a world-renowned Art Consultant and Senior Vice President at Hindman Auctions—and their two daughters Rosey Esther and Lily Benjamin.