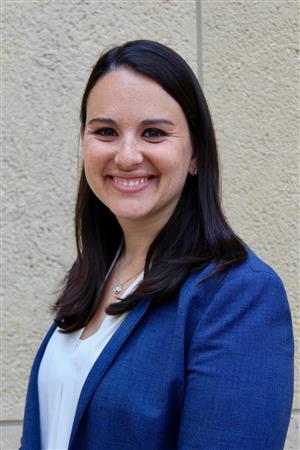 Contact Rabbi Amanda Greene
Associate Rabbi and Director of Lifelong Learning
Rabbi Amanda Greene
Rabbi Amanda Greene is thrilled to be a part of the Chicago Sinai Congregation community as its Assistant Rabbi and Director of Lifelong Learning. Born and raised in the Chicago suburbs, from a young age, Rabbi Greene was always curious about Judaism, constantly asking questions, paying close attention during Jewish holiday celebrations, and praying with her community. As a teenager, Rabbi Greene was active in her Temple Youth Group. 

It was these experiences that led Rabbi Greene to discover her passion for informal Jewish learning, for working towards repairing the world, for the land and state of Israel, for building Jewish community. 

Rabbi Greene received a Bachelor of Science in Human Development and Family Studies from the University of Illinois at Urbana-Champaign. Afterward, she attended the Hebrew Union College-Jewish Institute of Religion (HUC-JIR) in Los Angeles, where she earned her rabbinic ordination in addition to a Master of Arts in Jewish Education from the Rhea Hirsch School of Education, a Master of Arts in Jewish Nonprofit Management, and a Master of Arts in Hebrew Letters, and a graduate certificate in Israel Education from the i-Center located here in Chicago.

Prior to her ordination in May 2015, Rabbi Greene served as the rabbinic intern at Leo Baeck Temple in Los Angeles where she worked to engage young adults in Judaism and taught 8th grade. She also served as student rabbi at Temple Beth Shalom in China Lake, California, in addition to serving as a student chaplain at Lutheran General Hospital in Park Ridge, IL. Rabbi Greene spent a year serving the community or Shir ha-Ma'alot in Irvine, California as the director of Family Education and Hebrew coordinator.

Rabbi Greene is the author of a curriculum guide entitled, Sacred Symbols and Complex Realities: A Professional Workshop for Teaching Multiple Israels. As part of her ordination process, she completed a Thesis project about the Psychology of Jewish Mourning Rituals.