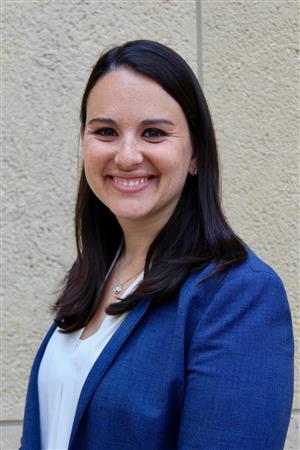 Contact Rabbi Amanda Greene
Associate Rabbi and Director of Lifelong Learning
Rabbi Amanda Greene
Rabbi Amanda Greene has been a part of the Chicago Sinai Congregation community since 2015 and currently serves as Associate Rabbi and Director of Lifelong Learning. Born and raised in the Chicago suburbs, Rabbi Greene was curious about Judaism from a young age; constantly asking questions, paying close attention during Jewish holiday celebrations, and praying with her community.

These experiences led Rabbi Greene to discover her passion for informal Jewish learning, working towards repairing the world, the land and state of Israel, and building Jewish community. 
Rabbi Greene loves connecting with the Sinai community and learners of all ages, whether teaching our preschoolers, teens, or adult education. She created a women's retreat for the congregation and has seen it grown from its initial inception in 2017.
Beyond her leadership at Chicago Sinai Congregation, Rabbi Greene served on the Central Conference of American Rabbis (CCAR) Conferencing Planning Committee from 2017-2021. In recognition of her leadership on the CCAR Planning Committee, as Vice-Chair in 2020, Chair in 2021, and role on the CCAR Chief Executive Committee, Rabbi Greene was honored with the CCAR HaKarat HaTov Award. In addition to her National leadership in the CCAR, locally Rabbi Greene serves as part of the summer faculty of Olin-Sang-Ruby Union Institute (OSRUI)  and was recognized by Jewish United Fund (JUF) as 36 under 36 in 2018.
Rabbi Greene received a Bachelor of Science in Human Development and Family Studies from the University of Illinois at Urbana-Champaign. She earned her rabbinic ordination at the Hebrew Union College-Jewish Institute of Religion (HUC-JIR) in Los Angeles. Rabbi Greene holds a Master of Arts in Jewish Education from the Rhea Hirsch School of Education, a Master of Arts in Jewish Nonprofit Management, and a Master of Arts in Hebrew Letters, including a graduate certificate in Israel Education from the iCenter located here in Chicago.

Previously, Rabbi Greene interned at Leo Baeck Temple in Los Angeles, Shir Ha-Ma'alot in Irvine, CA, and Lutheran General Hospital in Park Ridge, IL.  
Rabbi Greene lives in Chicago and enjoys traveling, both internationally and domestically, including leading trips to Israel. As a native Chicagoan, she loves exploring Chicago and spending quality time with her nieces, her extended family, and friends.