The Illinois Religious Action Center of Reform Judaism (RAC-IL)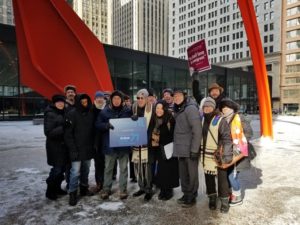 For nearly six decades, the Religious Action Center of Reform Judaism (the RAC) has been the hub of social justice work among the Jewish community. The RAC mobilizes around federal, state, and local legislation, supports and develops congregational leaders, and organizes communities to create a world overflowing with justice, compassion, and peace.
Reform IL, a project of the RAC, is working to collectively organize the Jewish Reform movement and other interested Jews in the Chicagoland area and statewide to build a more just and compassionate Land of Lincoln for all. We believe a robust, powerful Jewish community made of strong, networked congregations can effectively partner with other diverse communities across lines of faith, race and economic backgrounds to help bring about this world we envision.
Based on the success of other state-wide organizing projects, including Reform CA and Reform OH, in 2016, the RAC began exploring the interest in and capacity for building Reform IL– coming together as a movement to organize and leverage our power with partners who share our values. After a series of relational conversations with clergy and lay leaders, and research actions to explore common areas of concern, we agreed on the following two areas of deep and common concern as the priority areas on which we want to focus our efforts:
Racial Justice, including criminal justice reform, gun violence, the impact of inequality in arenas such as healthcare and education, and the reality of white privilege; and
Immigrant and Refugee Rights
As one of 30+ participating congregations, we at Chicago Sinai Congregation are working to build a congregational team to work as a part of Reform IL.
If you are interested in getting involved or learning more, please contact Betty Signer.