Abra Berkoff: Making A Difference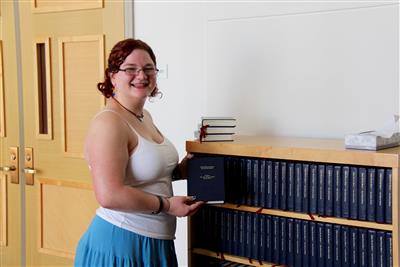 "My parents joined in 2005 – and used to go to Milwaukee for the High Holy Day services, since that's where my dad's parents lived. We wanted a temple closer to our home, tried a few – and found that Sinai fit.
"An important part of belonging to Sinai is going to Sunday School, giving back, becoming a madricha (youthc counselor), and of course the bat mitzvah and confirmation. I guess my most memorable experience is being the youth representative on the temple's Board of Trustees; it's there that you find out what's going on and how you can contribute. I realize you can't help the entire world … but Sinai comes close.
"Relationships at Sinai are everything. It's the interactions with kids and teachers. It's standing on the bema and growing up during your bat mitzvah. It's hugs from Heidi [Kon, director of the religious school]. And it's feeling those connections and being impassioned by what you're doing.
"We're on the right track. I'm proud to be part of it."