Mitzvah Weekend
This year, Mitzvah Weekend will be January 14th and 15th , Martin Luther King, Jr. weekend!
It is an opportunity for everyone in the Sinai community to celebrate Dr. King's legacy of service and
helping others; and to reflect and act on Dr. King's question "what are you doing for others?"
Learn more about this year's Mitzvah Weekend opportunities below.
SINAI in the CITY: Community Activities


Open to Sinai Members
Saturday, January 14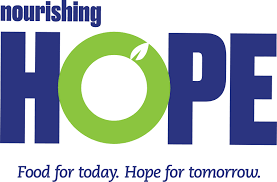 Nourishing Hope
Saturday, January 14 | 8:45AM – 11:00AM
Address: 5151 N. Ravenswood Ave., Chicago, IL 60640
Details:
10 volunteers needed, ages 10+
You will pack Home Delivery bags with food and load up cars with deliveries. Strong heavy lifters are needed to pack and move boxes throughout the shift. Sign up has been closed. If you have any questions, please contact Carol Miller at carolyanomiller@gmail.com.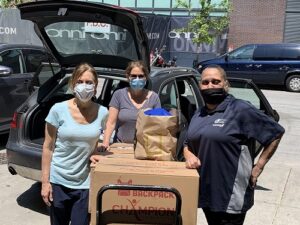 Share Our Spare
Saturday, January 14 | 10AM – 12PM
Address: The Sharehouse, 3800 N Milwaukee Ave., Chicago, IL 60641
Details:
20-30 volunteers needed, ALL AGES
Activities depend on a the day, but you will most likely sort through previously donated clothes and "kit" them together, a project where you make a week's worth of outfits from the donated clothing. Volunteers are encouraged to consider bringing with them to the volunteer activity bottles, new clothing for ages 0-5, winter accessories, coats, pacifiers, a package of Pull-ups, diapers, wipe, menstrual pads, and baby hygiene items. Sign up has been closed. If you have any questions, please contact Emily Stone at emilystonechicago@gmail.com.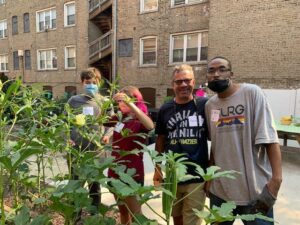 Stone Temple Community Church and Garden
Saturday, January 14 | 10AM – 12PM
Address: 3622 W. Douglas Blvd., Chicago, IL 60623
Details:
9 volunteers, ages 10+
We will be clearing and organizing space inside the Church for a small food pantry, including assembly of four large shelving units.  Please wear comfortable work clothes and bring work gloves if you have them.  Masks are strongly encouraged, because ventilation is not state of the art in this beautiful 100 year old building.  We ask that only people who've been vaccinated and boosted participate in order to protect older participants.
Sunday, January 15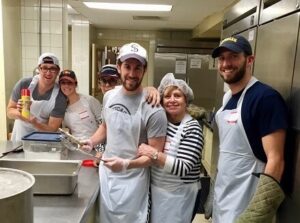 Fourth Presbyterian Church
Sunday, January 15 | 1:30PM – 5:30PM
Address: 126 E. Chestnut St., Chicago, IL 60611
Details: 
3 volunteers, ages 21+
Join a small team to cook (and serve from a COVID-safe distance) anywhere from 100 to 150 guests without permanent homes. No need to be an extra-super chef: What's required is the ability to follow directions (recipes provided), be facile with kitchen implements and tell a cabbage from a carrot, and enjoy the experience of serving others.
Sign up has been closed. Thank you for your interest.
SUNDAY at SINAI
Open to the entire community
Sunday, January 15 | 10AM – 12PM
We look forward to seeing you from 10AM – 12PM, join us for a brief service at 10AM
followed by a morning of activities. If you plan on joining us, please
complete a registration form.
Activities:
Bag Lunches: Make 500 bag lunches that will be delivered to area shelters. 
Blessings in a Backpack: Pack lunches with food items for Ogden School students. 
Collect and sort donations for The Ark, RefugeeOne, and Share Our Spare. 
Linus Blankets: Make fleece quilts for children at Cornerstone. 
Plarn for blankets: Recycle plastic bags into "plarn," a plastic yarn used to knit/weave into blankets. 
Write cards for the Troops, Meals on Wheels, and the lunch bags. 
DONATIONS & COLLECTIONS LIST
Please collect the following items and drop them off at Sinai between January 8th and January 15th. 
For a printable version of the donation list below, click here. 
The Ark (MUST BE KOSHER)

Share Our Spare

Kosher Honey
Kosher Kellogg Cereals
Kosher Applesauce
Dish Soap, Shampoo, Conditioner
Toothpaste and Toothbrushes
Tissues

Pacifiers
Bottles
Diapers (large sizes 5+ preferred) any brand
Pull-Ups

Wipes

Winter accessories or coats, ages 0-5
Baby hygiene items (diaper rash creams, soaps, and lotions) 
RefugeeOne
To buy a household item for a recent refugee, you can order off the Amazon wishlist here. These household items will be delivered to Chicago Sinai for Mitzvah Weekend, at checkout select the shipping address that says: Sinai ℅ Cohen's Gift Registry Address. 
These donations will help support Ukrainian refugees fleeing the war and settling in Chicago.  They often move in with family members until they can finding work and move to their own apartment.  The refugees typically arrive with only clothing and setting up an apartment is very costly.
The need is real and immediate with RefugeeOne supporting more than 1,600 Ukrainian refugees.  
LEARN & SUPPORT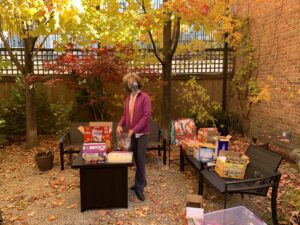 Each week, in partnership with Blessings in a Backpack, our volunteers provide 180 bags of food to students in need at local schools.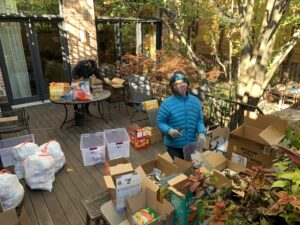 Help feed those in need of a warm meal. Volunteer to cook and serve dinner at 4th Presbyterian Church.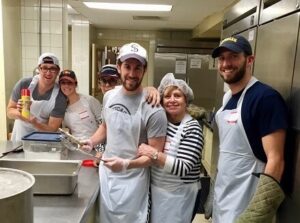 Want to have a real impact on the lives of refugees and immigrants here in Chicago? Join us to help refugee families from war-torn countries resettle in Chicago.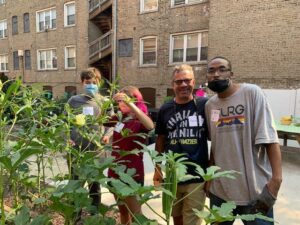 Stone Temple Community Garden
Each week, in partnership with Stone Temple Church, our volunteers plant and harvest healthy food for members of the North Lawndale community.