Mapping the Path to Liberation from Passover to Shavuot
Celebrating Milestones and Looking at the Work Ahead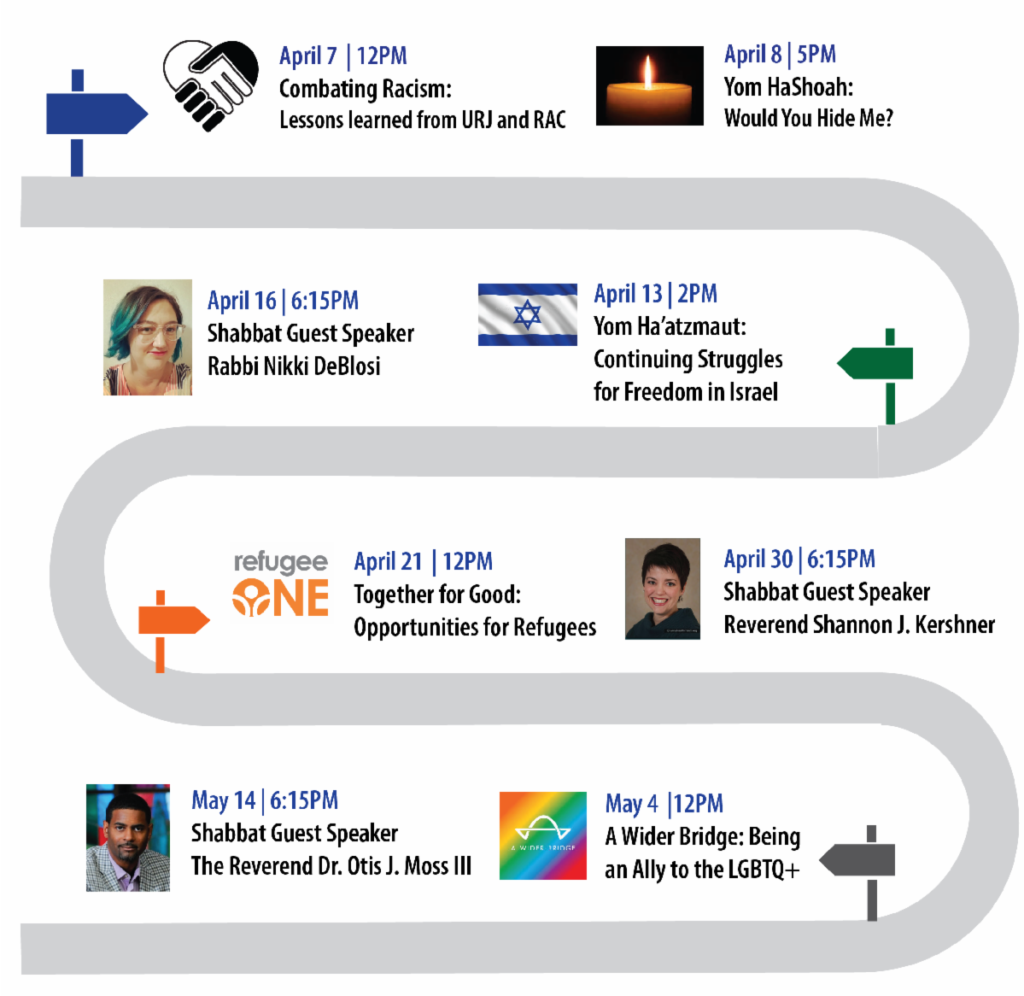 For Zoom links, please contact check your weekly This Week at Sinai email or email Rebecca.
Weekly Experience: Seven Important Signposts Marking the Road to Freedom
Wednesdays, 11AM from March 31 to May 12 with Rabbi Limmer
How do we even understand all the struggles for freedom happening in the world? What are the emerging fronts in the work of Justice? How are different struggles intertwined? Come join us for seven weeks of study of the work of important contemporary thinkers working for Justice. Together each week we will read and discuss an important chapter on subjects including: racial justice, women's rights, LGTBQ+ equity, economic equality, and combatting extremism.
Weekly Experience: Exodus and Revolution
Thursdays at 11AM from April 1 to May 13 with Rabbi Zinn
Every year we recall, retell, and relive, our story; the Exodus from Egypt. Every year we rediscover its radical assertions that oppression can and must end, and that people and the world can become more free. As the Israelites were freed, our own freedom and power necessitate that we work for greater justice in the world. Together we will look at how the Exodus story has been used throughout different cultures and communities as a model of liberation and freedom, and how we must continue to use it in our own time to continue to relive that journey today.
Sinai Forum: Combating Racism: Lessons learned from URJ and RAC
Wednesday, April 7 | 12PM
Join Rabbi Jonah Pesner, Director of the Religious Action Center of Reform Judaism and Yolanda Savaga-Narva, URJ Director of Racial Equity, Diversity & Inclusion to discuss how we can combat racism within our synagogue communities and in our civic society.
Yom Hashoah Commemoration: Would You Hide Me?
Thursday, April 8 | 5PM
As we commemorate Yom HaShoah, join us in a conversation with holocaust survivor Ginger Lane and her daughter Beth Lane. Ginger, who was confirmed at Sinai in the 50s, will tell her story as a Holocaust survivor and her daughter Beth will speak about her experience with immortalizing her mother's incredible story in her upcoming documentary feature film, Would you Hide Me.
Yom Ha'atzmaut Commemoration: Continuing Struggles for Freedom in Israel
Tuesday, April 13 | 2PM
Join Rabbi Noa Sattath, Director of the Israel Religious Action Center, to learn about the ongoing struggle for freedom and equality amongst marginalized groups. Together we will discuss the ways we can help to make Israel a more just and equitable state for all.
Shabbat Guest Speaker: Rabbi Nikki DeBlosi.
Do I Count As Jewish Enough? A Rabbi and Convert on Jewish Inclusion
April 16 | 6:15PM 
Sinai Forum: Together for Good: Creating Opportunities for Refugees
Wednesday, April 21 | 12PM 
Join Melineh Kano, Executive Director, and Sara Spoonheim Amit, Director of Development, from RefugeeOne to learn about ways we can work together to improve the lives of refugees, immigrants, and asylum seekers. 
Shabbat Guest Speaker: Reverend Shannon J. Kershner, Fourth Presbyterian Church
You're a Minister? You Don't Look Like a Minister
April 30 | 6:15PM 
Sinai Forum: A Wider Bridge: Building Bridges & Being an Ally to the LGBTQ+
Tuesday, May 4 | 12PM
During this interactive discussion with Nate Shalev, Senior Director of Programs and Strategy at Wider Bridge, we will provide a foundation to understand LGBTQ communities including the basics of gender and sexuality. We'll also focus on LGBTQ activism and what it means to fight for LGBTQ equality in Jewish communities
Shabbat Guest Speaker: The Reverend Dr. Otis J. Moss III, Trinity United Church of Christ
Religion and Racism
May 14 | 6:15PM