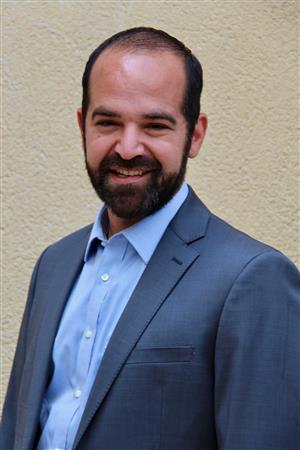 Adjunct Rabbi
Rabbi Todd Zinn
Rabbi Todd Zinn is thrilled to be a member of the Chicago Sinai Congregation community. 
Born and raised in Worcester, Massachusetts, Rabbi Zinn grew up in a very active and engaged Jewish family. He earned his Bachelors of Arts in History from Goucher College in Baltimore, Maryland. After college, he lived, learned and volunteered in Israel for a year as a part of the OTZMA service-learning fellowship. Upon his return to the United States, he relocated to Los Angeles, California where he taught 6th grade before entering Rabbinical School.
Before his ordination, Rabbi Zinn worked with college students at The University of Southern California. He was a spiritual counselor at a Jewish residential addiction treatment facility, Beit T'Shuvah in Culver City, California. He also served congregations in Victorville and Thousand Oaks, California. 
Rabbi Zinn was ordinated at the Hebrew Union College – Jewish Institute of Religion. There he also earned his Master of Arts in Hebrew Letters and Masters of Arts in Jewish Education. Rabbi Zinn is a passionate teacher to students of all ages, an empathetic listener and a collaborative presence.
An Interview with Rabbi Zinn
Welcome Rabbi Zinn
THE EDUCATION OF A TEACHER:  A talk with Todd Zinn, Chicago Sinai's newest rabbi
First impressions count. 
A quick and easy smile (plus laugh), well-thought-out responses, and a thorough engagement with any conversation: All characterize Todd Zinn and his enthusiastic adoption of all things Chicago … and Chicago Sinai. 
The Worcester, Massachusetts-born Zinn came to the profession on his own, taking a hint or two from his parents (who managed to raise two rabbis, since his brother Jonah is a rabbi in St. Louis). He revealed more about background and his education in a free-ranging interview that touched on topics from his love of education to his own learnings and mentors.
Why Sinai? What excited you about the congregation?
For me personally, part of the draw is living and working in a city, especially one as vibrant as Chicago. More important, our history, the portfolio of values, from interfaith to social justice, truly excites me – and the opportunity to contribute to that legacy. Plus, of course, teaming with professionals and congregants who want to collaborate and learn together.
It's not an easy road to become a rabbi. What made you pick that profession?
You're right: It's five years of school and I added another year to get my Masters in Jewish Education. I guess my parents started it. I give a lot of credit to my parents for helping me become the person I am – along with my brother and sister – and infusing in us the right kind of values. All of us have been (and now are) incredibly active and engaged. We attended a Jewish elementary day school, and participated in the local synagogue community. This path, however, truly became clear after college. I was teaching elementary school in Los Angeles and realized I wanted to combine my love for Judaism and my love of teaching. Becoming a Rabbi was the logical next step in my own journey.

How about other mentors, influencers?
Rabbi David Eshel of Wilshire Boulevard Temple in Los Angeles was one of my first mentors and a big part of my journey to the rabbinate. My Hebrew Union College professor and thesis advisor was Rabbi Richard Levy. I admire the way he lives his life; the authenticity and integrity with which he carries himself in everything he does, whether at home or at work.
What will your responsibilities be at Sinai?
Obviously, to conduct services, Torah Study, participate in life-cycle events. I'll be involved in social justice activities, helping figure out how to get more people engaged, as well as in interfaith work, furthering relationships between our members and other congregations. And coordinating the b'nai mitzvah program.
When you were here, you gave a mini-sermon about change. Why did you pick that topic?
I truly believe we have the responsibility as social activists to engage with organizations we don't always agree with. Change happens when you're inside – and can influence others. Yes, it can be uncomfortable and it can take a lot of work – but it can have a profound impact in the end.
And when you're not being a rabbi … ?
I'm into sports – and hiking and biking and all things outdoors. I'm from Boston, so I will take some time to cheer on the Chicago teams. Growing up we had dogs, little Bichon Frises, so now I am looking for a dog-friendly apartment building. 
What else should Sinai members know about Todd Zinn?
To say hello whenever you see me. And to repeat your name so I can remember you; it'll be through reminders and our work together that we'll get to build the kind of relationships that are at the heart of Sinai.